Yedikule Fortress Hosted the "Drone Races Victory Cup"
Fatih Municipality and Tech Drone League broke new ground and organized a drone race in a historical building for the first time in the world.
30 August 2022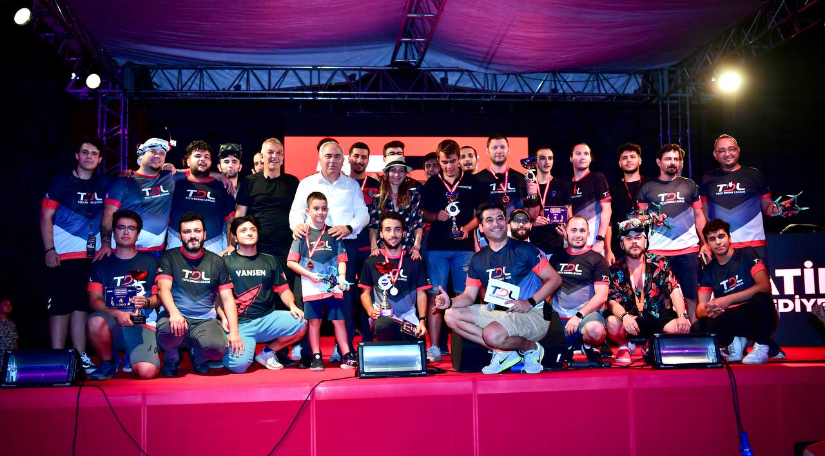 The final competitions of the Drone Races Victory Cup organization, organized by Fatih Municipality in partnership with the Tech Drone League, came to an end. The winners of the competition received their awards from our Mayor, Mehmet Ergün Turan
The Drone Races Victory Cup organization organized by Fatih Municipality together with the Tech Drone League came to an end after the final races. The organization, which was hosted by Fatih Municipality in Yedikule Fortress, was held in a historical venue for the first time. On the first day, the drone pilots competed in the training and qualifying laps, and on the second day, they reached the championship with the qualifying races. The final races were held in the evening hours on a 12 square meter track, specially illuminated with LEDs, surrounded by a thousand square meters of safety nets, consisting of 11 obstacles and 3 turns. The images in the pilots' glasses were broadcasted live on the LED screens on the stage and the audience shared the excitement of the pilots. In the team race category of the competition, Eren Çolak and Batuhan Koç from the Blue team ranked in the first place and were awarded 6000 TL, while Hüseyin Yılmaz Çimen and Özgür Can Özçelik from the Green team ranked in second place and were awarded 3000 TL, and Hüseyin Ablak and Deniz Sarel from the Yellow team ranked in third place and were awarded 2000 TL. In addition, in the individual category, Hüseyin Ablak ranked first and were awarded 3500 TL, Hüseyin Yılmaz ranked second and were awarded 2000 TL and Eren Çolak ranked third and were awarded 1500 TL. Fatih Mayor Ergün Turan also attended the award ceremony held after the final races and presented the awards to the contestants.
Fatih Mayor Ergün Turan said, "Drone races, perhaps the latest stage of technology, were held here in the Yedikule Fortress region in an important part of our Fatih. It was a good organization, 48 teams participated in this organization. Young people from all over Turkey, from all age groups, from all professions, from five different leagues about drones participated. Very enjoyable competitions took place here. It was a different experience for them in this historical venue. I participated both on the first day and watched the final competition today. The aim of these competitions is to increase the interest of young people in technology. We have really talented young people. I hope we can hold this competition here next year, as well. Young people in Turkey are very interested in technology, but I believe that the interest of young people in technology will increase even more through these competitions."